Pioneering in feed pathogen mitigation
Feed safety is essential to all of us and begins with a clean production system. From the farmer to the feed producer, all partners need to operate in a safe and clean way. Our ProPhorce™ SA can help!
Keeping feed enterobacterial and Salmonella pressure under control is absolutely necessary to prevent these pathogens from having a negative impact on your bottom line and reputation. The considered acceptable enterobacteria load in any classical compound feed is <4log CFU/g. While it is mandatory to fulfill <2log CFU/g in breeding layer feed.

In feed production, heat conditioning is common practice to reduce Salmonella. While effective, it is often overlooked that during the cooling-drying phase recontamination risks arise. Our research has shown that optimal results are achieved with reduced heat conditioning (65° C, 2 min) in combination with a solution such as ProPhorce™ SA to help improve the results and to prevent recontamination.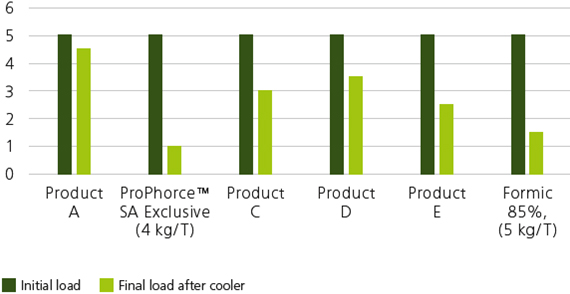 Comparison between ProPhorce™ SA Exclusive vs 4 competing products and formic acid 85% in mash feed (entero load log CFU/g). All samples treated at 65° C.

Would you like to know more? Contact us or visit our feed hygiene page>>

Sofia Rengman
Business Development Manager Acid Solutions
Tony Toebak
Marketing Communications Manager Animal Nutrition