A perfect homogenous dispersion
Pellets that are too dry fall apart and pellets that contain too much moisture tend to take odd shapes, both of which mean a loss of production capacity. The ideal situation: moisture that at mixing level is bound to feed components for a good moisture balance combined with strong mold inhibitor to prevent mold growth.
Standardize the moisture content of your pellets
During the production process of compound feed, moisture loss can be a major issue. Moisture loss can increase more than 3%. This has a negative effect on pellet quality and is a major expense. For example: at a feed mill that produces 100,000 ton p/y, a 1% reduction of moisture loss can save up to € 300.000,- per year.
The solution: ProSid™ Pellet Pro
A mold inhibitor and surfactant using the power of esterified propionic acid.
a balanced feed moisture content without the risks of molds or bacteria
optimize the moisture content of your feed
increased feed pellet quality
Better results thanks to the esterifying technology
secure quality of your product – equal pellets thanks to homogenous spread
serves as a surfactant – lowers the surface tension of water
a longer lasting mold inhibiting effect than other products
highly concentrated, non-ADR solution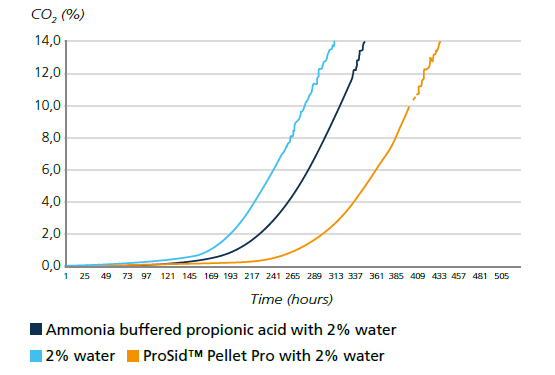 Mold growth over time under optimized test conditions. The graph shows mold growth measured by CO2 production over time. Addition of ProSid™ Pellet Pro greatly prolongs the time before mold formation starts compared to untreated and ammonia buffered organic acid based mold inhibitor.