Location: Perstorp S.p.A, Castellanza, Italy
Main products: specialty polyols, propionates
The site is located in Castellanza, 30 km north of Milan. On the site, one other company is also operating, Agro Linz International

The Castellanza plant started operations in the year 1900. Perstorp acquired the moulding compounds plant in 1982 and the penta, formaldehyde, sodium formate and formic acid plants in 1988. During 2001, the process was redesigned and turned into a multi-purpose plant.

A biological plant to treat wastewater was built in 2000.
Main certificates valid for this and other sites can be found here >>

Map and driving directions to Site Castellanza >>

Perstorp S.p.A
Corso Sempione, 13
Castellanza Varese
Italy

Phone: +39 331 488 311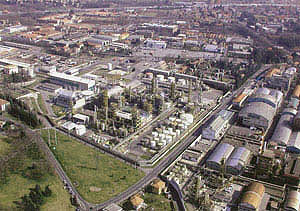 Luigi Mocchia
Site Manager Castellanza
Vincenzo Lauriola
Plant Manager Site Castellanza