Perstorp Technical High School awarded with Framtidspriset 2019
At Automationsdagarne 6.-7. February, hosted by ITF Automation, Perstorp Technical High School was awarded with ITFs Framtidspriset 2019. The high school was, among other things, awarded for its ambitions to be in the lead and its close collaboration with the industry.
The award was presented at the annual conference Automationsdagarne 6.-7. February, where current and future automation experts meet, to network and develop professional skills. Students from the Electricity & Energy program received the award on behalf of Perstorp Technical High School.
ITFs Automations award "Framtidspriset" (in English: Future Award), is awarded to one person or a group of people, who through a significant effort, in an area related to professional automation, function as a role model for young people, who is about to or just have chosen a technical education. The award is presented by ITF Automation and sponsored by a number of corporations, working with professional automation.
Motivation for awarding Perstorp Technical High School:
"A school with ambitions to be in the lead and with a close collaboration with the industry, not only Perstorp AB but also with a number of businesses in the region, with focus on automation. The gender mix between both students and teachers is extraordinary as well as an extremely high percentage of students graduating. An APL-company, where the students participate in the daily work, which applies in the profession, in cooperation with experienced and engaged supervisors."
Åsa Persson, Headmaster at Perstorp Technical High School, comments:
"It is with great pleasure that Perstorp Technical High School receives the award from ITF. Currently, we are collaborating very closely with companies such as Perstorp Group, Celanese, Johnson Matthey and Emerson, where we build up expertise for our school and the companies involved. This project is perfectly in line with future perspectives, where school and industry work closer together, with the aim of educating employable students, through valuable work experience during their study."
Together with the honor of receiving the award, comes a diploma and 50.000 SEK.
Read more about ITF Automation here>> (in Swedish)
Want to know more about Perstorp Technical High School, go to perstorpgymnasium.se>> (in Swedish)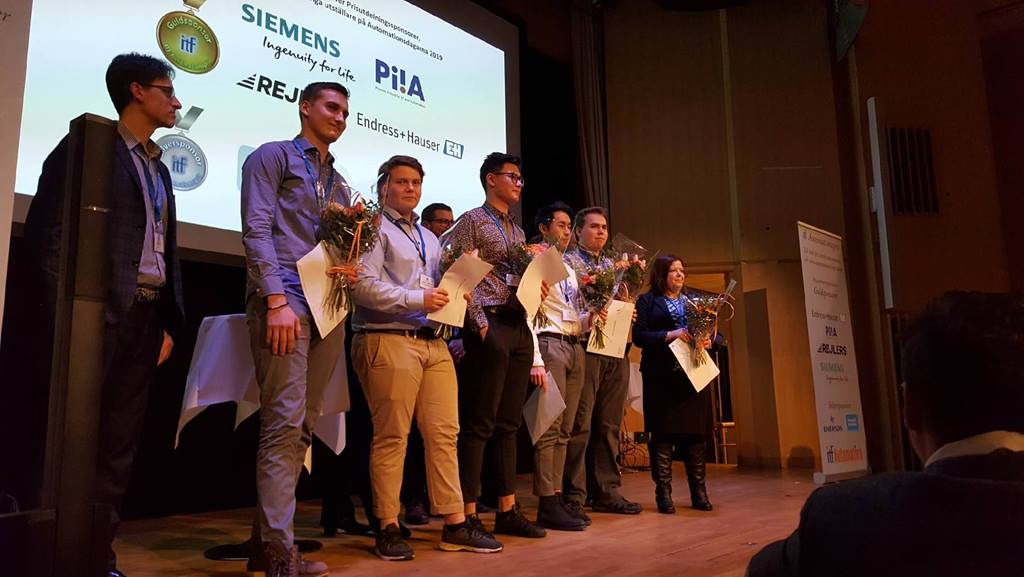 Students from Perstorp Technical High School receiving ITFs Automations Framtidspriset 2019