International Day of Women and Girls in Science 2021
It's International Day of Women and Girls in Science – a great opportunity to lift the importance and need for girls to choose STEM educations and to inspire women to follow a career path in science related fields. To raise the voice of women and girls in science, we have given the word to a young and passionate scientist, sharing her story about navigating through a STEM education and stepping into a career in science.
According to the United Nations, there is still a significant gender gap in STEM related fields, while women and girls continue to be excluded from participating fully in science. Today, still less than 30% of the world's researchers are women, however, gender equality and empowerment of women and girls in science, have proven to be crucial enablers to ensure economic development and to support us in reaching UN's Sustainable Development Goals.
Meet Nadia Wenske – student at the Master Program in Toxicology at Karolinska Institute in Stockholm and currently working as a Master Thesis Intern at the Regulatory Affairs Department at Perstorp.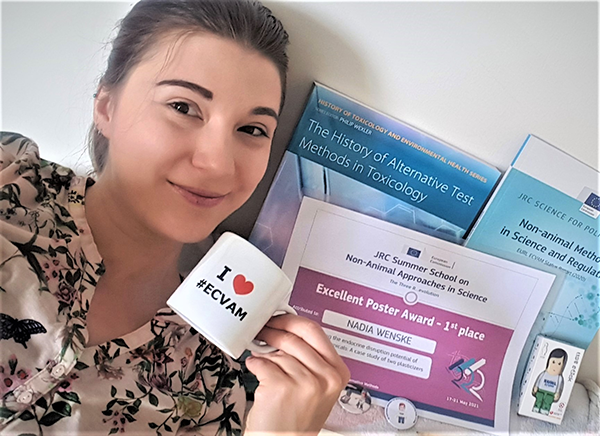 Navigating through the fields of STEM
It was not always obvious that Nadia was going to join a STEM education or end up where she is today; studying a Master in Toxicology.
Nadia explains: "To be blunt, I was not very much interested in science until I reached the last years of my high school education. However, I did always have a strong interest in biology and geography, which came mainly from my father's passion and education within the field. However, when I finished high school, I had the mindset to challenge myself and learn something new, not something I was already quite good at, which were language and writing.
The more time I spent in the STEM environment, the more I grew fond of it. I loved to do and explore something new every day, challenge my skills and step out of my comfort zone. The first years of university were also when I first really excelled at both math and physics, and I gained more and more confidence in my science skills.
With the help of my wonderful supervisor, I could co-author my first publication already before graduating from my Bachelor's degree. Then I felt as a full part of the scientific community and I since then, I have never doubted myself being a scientist again."
Experiencing cultural diversities but a positive outlook for the future
Moving to Sweden for her studies, Nadia quickly experienced how different the STEM environment was in Sweden, compared to her home country. But recent developments in science makes Nadia confident that global change is coming.
"At Karolinska Institute in Sweden, most of my teachers are female and I realized how different it was in Germany, where I could count the female professors on one hand. Studying in Sweden, definitely gave me more confidence and support in my choice of study and career, while women in high positions also seem to be more common in Sweden. I wish to see that change in my home country as well.
There is still a lot of work to do within STEM, as women still aren't honored as much as men. One example are the Nobel Laurates. There haven't been many women among the Laurates throughout history, and the contributions of female scientists have often been overlooked, or even stolen. However, last year's Nobel Laurates gave me hope that change is underway and more girls can be confident that they have the potential to become great and outstanding scientists," Nadia comments.
Combining theoretical studies with hands-on experience
Back in December 2020, Nadia joined Perstorp on her six month long Master Thesis Project, where she supports the Regulatory Affairs Department, in their work to secure safe and healthy products, for example by identifying potential risks of so called 'endocrine disruptors'. In the toxicological world, there is a novel concern for endocrine disruptors, while they can interfere with the human hormone system. Hence, a crucial yet complex task for the team in Regulatory Affairs to oversee.
Nadia elaborates: "On a day-to-day basis, I conduct systematic literature reviews, re-assess all available test data and communicate with experts and specialists in different areas. It is a bit of a detective work, where I have to be very analytical on one hand, while looking at the big picture on the other hand. On the edge between scientific and legal work, my deeply-anchored interdisciplinary interest also enables me to be flexible in understanding the reasoning and conclusions drawn from data by the two different fields.
As a toxicology Master student with a strong background in endocrinology from my Bachelor's education, I highly embraced an opportunity to conduct a more theoretical project at Perstorp. At the same time it was very important to me to conduct the thesis in an industrial company, so I could already gain working experience and acquire skills and knowledge outside the scope of my project, which would come in handy for my future career."
Perceiving the world in a new way
Though navigating through the STEM disciplines was not always straightforward, Nadia highly recommends a study within the field of science:
"Regardless of which specific subject you choose, all STEM fields teach you how to rationally and objectively look at the world, how to structurally and quantitatively assess data and how to use wording in a specific and very truthful way. STEM-subjects teach you how to be analytical and have an eye for the detail. It urges you to put your personal beliefs and opinions into the background. I find this especially valuable as a young woman in a world of many uncertainties and challenges.
More generally, I am highly convinced that this STEM-specific skillset will make you a very valuable member not only of the society, but usually you can also find interesting and responsible jobs, where you can have a real impact on the world," Nadia says.
Dreaming of a healthier and safer environment for everybody
Being highly ambitious, Nadia dreams of actively contributing to creating safer environments. Achieving a PhD in Environmental Health would enable her to take on the responsibility and influential positions, to directly impact human and environmental health.
Nadia ends: "I also wish to contribute to educating the public about toxicological issues, so that everybody can see the urgency there is to work together for creating a safer world. We have to enable future generations to live in a toxic-free environment where they can develop their full potential and help overcome the gigantic challenges we face today and will face in the future."
Learn more about the International Day of Women and Girls in Science