Taking bioplastics to the next level
Emelie Rydén at the Perstorp innovation center gives you insights on the material and application knowledge that will take your bioplastics production to the next level.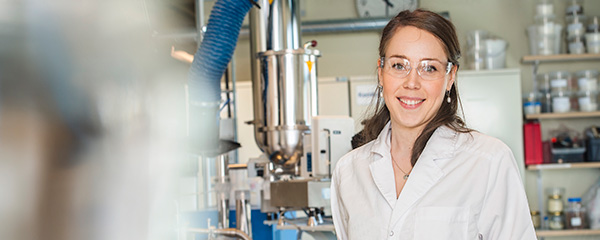 In many ways, plastic is an excellent material. From a performance standpoint, conventional, fossil-based plastic provides superior stability and durability. The problem is that when waste management fails, plastic litter ends up in our natural environments – a problem that is getting increasing attention in the media.
Something must be done to turn this around, but unfortunately there is no single quick fix. We must all reduce our use of plastic as well as turn to complementary sustainable solutions, such as increasing our use of bioplastics.

While still a new and relative small area, the use of bioplastics is growing fast. So far, one of the main bioplastics challenges has been to improve the mechanical properties, overcoming obstacles such as brittleness and lower moisture resistance. Bioplastics compounders need to replicate the properties of conventional plastic in materials that are also renewable or biodegradable – or both.

"Frankly, if it is not good enough, people won't use it," says Emelie Rydén, Associate project manager at Perstorp Innovation. "Perstorp's basic idea is to expand the use of renewable and biodegradable bioplastics by using Capa™ for Bioplastics to improve and tailor material properties.

"The improvements possible with Capa™ for Bioplastics include easier processing, increased toughness and better ductility/flexibility in the compound. It is flexible and can be used for a wide range of applications, where it, for example, will reduce degradation in use, provide food-friendliness and fast biodegradation under the right conditions.

"Through Capa™, we have built up a technical expertise in how to formulate in an optimal way for different applications such as plastic films and food packaging," Rydén says. "We have the R&D resources and a solid knowledge about many biopolymers and bioplastic compounds, which we are happy to share.

"As many compounders are still new to bioplastics, making value chain collaborations is key to success. Frequent customer contacts is one of Perstorp's top priorities, making it easier to find the best solutions. "We spend a lot of time visiting companies, working together to find out more about their needs and challenges," Rydén says. "This firsthand information forms the basis of our solutions. Simultaneously, we do separate research and development to advance our understanding of bioplastics and how to overcome obstacles.

"The Capa™ team brings back this information to Perstorp's innovation center in Sweden, which is essential for maintaining and building on the company's expertise. It is here, in the state-of-the-art, full-service laboratories, that Perstorp develops its comprehensive formulation and application knowledge used mainly in bags and films, rigid packaging and paper coatings. Much of the development is carried out in the materials laboratory, which equals that of an industrial processing plant, but on a smaller scale. The heart of the laboratory is its twin-screw extruder with a set-up that makes it ideal for biopolymer processing and blending: precise gravimetric feeders for liquids, pellets and powders, full venting and degassing, a water bath for cooling as well as a pelletizer.

Working with a capacity of 5–10 kilograms per hour facilitates the step from idea to action. Combined with comprehensive testing facilities – including sample preparation, mechanical testing, thermal analysis and characterization – this enables an agile operation. Rydén explains: "Customers can find out if the recipes match their specifications at an early stage, and the compounds can be adjusted quickly in an iterative process.

"What it boils down to is that we help customers combine performance and sustainability in bioplastic products that will make them more competitive", Rydén says.