Exploring the alkyd resin market to create a sustainable future for the European coatings industry
With increasing regulatory focus and consumers demanding products that are more sustainable and eco-friendly, the coatings industry needs to evolve and, as such, there is a search for technologies that meet these requirements without compromising cost or performance.
Containing more than 50% of natural oils and carboxylic acids from renewable plant sources, alkyd resins are a logical choice for sustainable coatings compared to other petrochemical based resin systems. Following a period of decline, the alkyd coatings market has stabilised in recent years and is currently enjoying a period of modest growth. As a thoroughly tested technology, alkyds offer a number of performance benefits that make them an attractive option for coating formulators, particularly for wood applications. This is because the drying time is long enough to let the penetration into the wood substrate take place. Low VOC, solvent-borne systems are widely available as are water-based systems whose performance is constantly improving, with the added benefit of superior environmental credentials.

There is also a recognition, particularly amongst professional painters, that alkyd-based paints offer performance advantages that other systems cannot match, namely with regards to ease of application and the possibility to apply several coats in a short period of time.

Here, we explore the opportunities, and challenges, facing the alkyd resin market in supporting a more sustainable future of the European coatings industry, and look at the market from the perspective of three very different, but forward thinking organisations.
A short history of alkyd resins
Alkyd resins have long been recognised for their green credentials based on the natural fatty acids and polyol content that makes up the majority of the resin. As early as the 1930s, alkyds had gained a reputation for their high quality, glossy application performance thanks to their low molecular weight. The oxidative drying also provided good hardness development and corrosion resistance properties. In the 1950s, the emergence of emulsion polymerization technology driven by acrylic and vinylic polymers, made it possible to make water-based products that were easier to clean and more economic to produce as a result of lower crude oil prices. These new water-based paints captured the majority of the architectural coatings market.

In recent years the focus has been on the development of durable and sustainable coatings, looking for solutions that would support the transition from fossil to bio-based products with equivalent performance. Alkyd resins have traditionally been solvent based but regulatory requirements to reduce VOC emissions have been a key driver in the development of water-based alternatives. The first biosourced alkyd polymers and water-based paints were launched in 2011, made possible thanks to critical developments steps in the surfactants world. Unfortunately, these water-based paints didn't achieve the expected success as the high volumes of surfactants used in the manufacturing process caused both cost and formulation issues. The products were around 30% more expensive than their petro-sourced counterparts and the biosourced raw materials had an undesirable yellowing effect on the paint. The drying was also considered too slow and quite quickly these new water-based products lost favour with consumers, producers and distributors.

Clearly, maintaining the critical performance attributes is key to success in the search for a more sustainable solution.



Crunch time for cobalt?
There is another key factor at play in the alkyd resin market. In the face of regulatory reform, the challenge of replacing cobalt for the global coatings industry remains. Cobalt has been under scrutiny for several years. The European Chemicals Agency (ECHA) has listed five cobalt salts as substances of Very High Concern and the Cobalt Reach Consortium have self-classified 12 cobalt compounds as toxic to reproduction, class 2. Labelling and harmonisation reports from the Dutch authorities are long overdue and the industry regards it as inevitable that, in the future, cobalt containing products will require some level of hazard labelling.

The entire current system for alkyd paints was set up and perfected around cobalt as the primary drier and any replacement drier must not undermine the performance advantages of alkyd systems that is key to their popularity.
However, the search for a cobalt substitute is not an easy one. There is no such thing as a 'simple drop-in' cobalt-free solution. The type and ratios of both primary and secondary driers need to be explored - ensuring effective through dry in the absence of cobalt. Any viable alternative must be applicable in all alkyd-based (solvent-based, water-based and high solids) coating segments, and in all geographies. It must be fully compatible with other materials used in paints, maintain the aesthetic, protective and functional properties of the coating, be environmentally sustainable and ultimately, cost-effective.

Catexel is not a typical supplier to the coatings industry but has developed an iron-bispidon catalyst as a cobalt alternative for alkyd systems after recognising that the stain bleaching mechanism for one of its catalysts was chemically similar to the alkyd curing mechanism. This revelation was commercialised by the OM Group and brought to market as Borchi Oxy Coat. Since then Catexel has commercialised manganese based drying systems and continue to develop ever-more effective alternatives to cobalt compounds in solvent and waterborne alkyds.

"While posing a troublesome challenge for manufacturers, the regulatory threat jeopardising cobalt's long term viability can be perceived as an opportunity for the makers of paints to consider innovative technologies. Early adopters of cobalt free solutions can cement their brand's reputation as conscientious and sustainable." sais Liz Manning from Catexel

Replacing cobalt is a logical step to deliver a complete, sustainable coating solution but a fully optimised system can only be achieved by resin manufacturers, integrated coating companies and other additive suppliers working together. Collaboration is not always an easy process but it is much more likely to achieve real change.


Overcoming barriers to adoption
Cost is always an important factor for any coating but it's even more sensitive for decorative paints. Fluctuations in the price of raw materials have a key role to play here and one in particular, cobalt is currently undergoing a significant shift. The relative price between cobalt and cobalt free driers has always been significant however, shifts in the cobalt market are closing that gap. As cobalt is increasingly required to produce lithium-ion batteries for mobile phones and electric vehicles, the availability of the metal is decreasing. This is driving up prices and the coatings industry, as a relatively minor user, will bear the brunt. As such, the increasing cost of cobalt could act as a potential driver for the faster adoption of sustainable alternatives.

The challenge for the alkyd resin market is to produce a solution that offers the same performance attributes with lower VOC levels at the same, or lower, price with proven sustainability credentials.
Sustainable without compromising performance
While bio-based product penetration has progressed well in many industries such as cosmetics and detergents, in the paint industry, green chemistry has so far remained below 5 to 10%. This low adoption rate can be explained by two key factors; technical performance and cost.
From a technical perspective many coatings based on water-based alkyds have struggled to achieve the required performance attributes such as gloss, adhesion and resistance to corrosion. There is also a need for further development of bio-based di-acids as those currently available on the market have a number of performance limitations.

An alkyd could be up to 100% bio-based and performing. The basic components that make up an alkyd are fatty acids, di-acids and the polyol. All three can potentially be extracted from natural non-fossil resources. An example is the polyol Voxtar™ M100 provided by Perstorp AB, that is 100% Biobased and produced with a heavily reduced carbon footprint. Voxtar M100 is a "drop in product" which is produced in a mass balance concept that is certified by a third party. Resin producers purchase this molecule and, together with any given di-acid or fatty acid, compose an alkyd with specific given properties.

Improvements in biosourced polymers, delivered by the market leader in eco-friendly resin maker Ecoat and commercialised under the bio-based brand name Secoia, have been made possible by selecting the most appropriate biobased raw materials to build the 98% bio-polymer backbone and by optimizing the production process. The choice of the raw material is key as it determines the overall drying mechanism and final performance. For example, the fatty acid used determines the level of yellowing and hardness development. Early hardness is related to the molecular weight of the resin and therefore to the diacid and/or the polyol used. Biobased pentaerythritol (Voxtar™ M100 from Perstorp) is therefore an excellent building block as it enables to get 4 primary hydroxyl groups with a 3D structure.

"Our mission is to support the coatings industry in becoming more sustainable with biosourced polymers that reduce the carbon footprint of paints and ultimately, produce a higher quality product for the end user" sais Dr Olivier Moreillon, Ecoat

These biobased water-borne coatings are cost competitive and offer a number of benefits including lower VOC emission, improved personal safety, low odor, soap-and-water clean-up, easier disposal and lower yellowing. They also dry quickly enough to behave like solvent-based alkyd or water-based acrylic polymer, while still enabling high gloss formulations and open time.

"With outstanding wood and steel protection properties, alkyds are the sustainable coatings choice of the future. There is a huge growth potential for the waterborne solutions and our sustainable polyols help reduce carbon footprint even further" comments Kent Hamacek, Product Manager, Perstorp


Collaborate to innovate
A coating is a complex combination of components and their applications, hence performance requirements, vary widely. To develop resin formulations that meet the performance and environmental requirements required by the coatings market without compromise, collaboration across the entire supply chain is crucial.

There are many individual players bringing new ideas in their particular field, but collaboration can deliver far more than individual companies alone and is much more likely to achieve the permanent, economically viable, sustainable change the industry needs.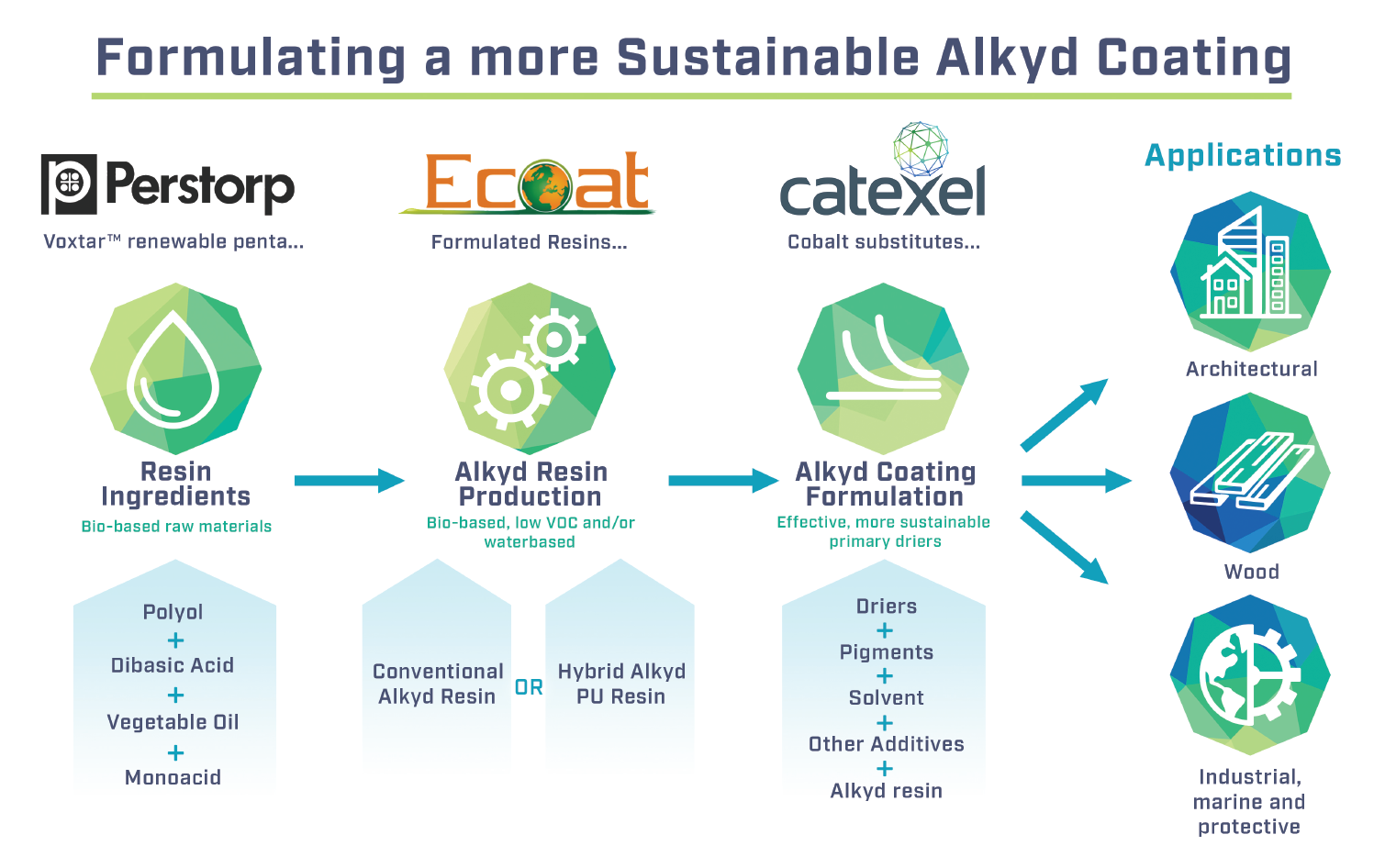 Authors: Liz Manning, Catexel; Dr Olivier Moreillon, Ecoat and Kent Hamacek, Perstorp