Market Perspective: Extended Sustainability with Waterbased UV
By combining the benefits of the fast curing, high quality uv curing with technology for water based systems it is possible to get the best from two sustainable worlds.
A brief history of UV
UV Curing technology was developed already in the 1960s using chemicals with unsaturations to cure with exposure to UV light or Electron beams (EB). The big advantage being instant curing and excellent properties. During the 80s the technology developed more and started to be used on a commercial scale. As the awareness of solvents effect on the environment increased so did also the popularity of UV curing as a way of reducing the amounts of solvents used. Since then the type of applications and use has developed even further and so has the demand both in terms of performance and sustainability.
Two Technologies in One
Although UV Curing in itself is already a very sustainable technology certain applications still require the use of solvents or monomers (with risk of migrating) to achieve low enough viscosity for a satisfying result when applying the coating or ink. Recently the idea of combining the UV technology with another sustainable technology, water based systems, emerged. The developed systems are generally either of a water soluble type (either through ionic dissociation or miscible compatibility with water) or of the PUD (polyurethane dispersion) type where droplets of a non-miscible phase is dispersed in water through the use of a dispersing agent.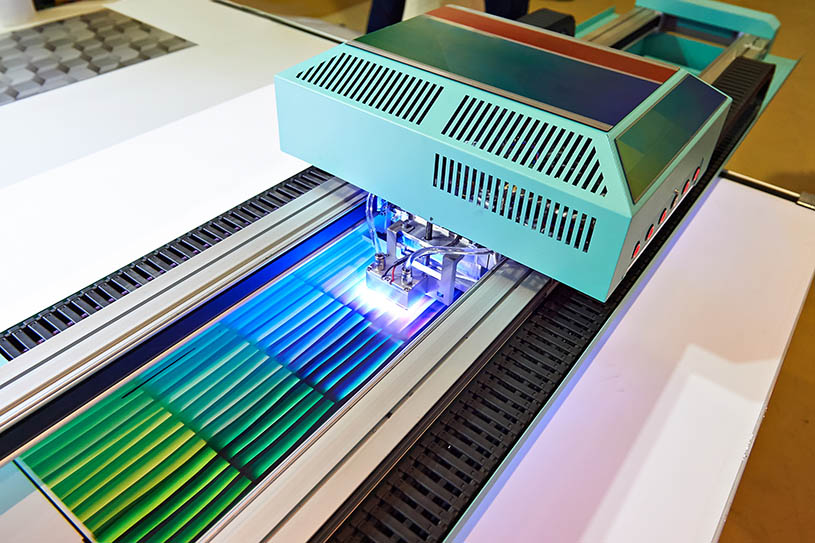 Not only for wood coatings
Initially the waterborne UV coatings have mainly been adopted by the wood coating industry. Here it was easy to see the benefits of combining benefits from high production rate (compared to non-UV), high chemical resistance with low VOC. All important properties in coatings for flooring and furniture. However, lately also other applications have started to discover the potential of water based UV. Waterbased UV digital printing (inkjet inks) can benefit from the advantages of both waterbased (low viscosity and low VOC) and UV-curing inks (fast cure, good resolution and chemical resistance) .Development is moving forward quickly and likely many more applications will soon evaluate the possibilities of using waterbased UV curing.