Pevalen™ general purpose plasticizer from Perstorp meets the need for phthalate-free solutions in PVC
With a key plasticizer, dioctyl phthalate (DOP), no longer permitted under European Union REACH regulations after February of this year, PVC compounders and processors will have to move to safer alternatives. Perstorp, one of Europe's leading providers of plasticizers, and one of the very few with upstream integration, is in a strong position to fill the gap with a next-generation alternative that combines high performance with ease of processing and important environmental benefits.
Pevalen™, a genuine non-phthalate PVC plasticizer derived solely from aliphatic raw materials, is suitable for a wide range of general purpose applications. A polyol ester derived from food-approved raw materials, Pevalen™ is based on well-proven, reliable chemistry that is already registered under REACH. The process for obtaining food contact approval for Pevalen™ itself is currently underway and should be concluded in 2016. Perstorp uses renewable energy and raw materials in its manufacturing process, to ensure Pevalen™ is a sustainable product capable of meeting the demands of tomorrow, today.

Pevalen™ has already proved to be suitable for a number of close-to-consumer applications, and customer feedback is extremely positive. The new plasticizer is ideal for a wide range of consumer applications, ranging from textiles, through vinyl flooring, to coated fabrics.

Pevalen's ability to produce flexible PVC formulations that are soft and durable, as well as highly resistant to cleaning chemicals, makes it ideal for flooring in public building, hospitals and domestic environments. The plasticizer also displays excellent UV stability, making it an excellent choice in applications exposed to sunlight. Further key applications include artificial leather, protective clothing, pool liners and clothes, where softness and flexibility properties are appreciated. Pevalen™ can also be used in plastisols, molded parts, films and foils.

Performance of Pevalen™ is equal to or better than other general purpose plasticizers currently on the market (see Fig 1). Its combination of high efficiency and low volatility make it particularly suitable for sensitive applications. It is as efficient as DOP, and its low volatility is similar to that of high molecular weight plasticizers such as diisodecyl phthalate (DIDP) and Perstorp's own Emoltene™ 100 dipropylheptyl phthalate (DPHP). Low migration out of PVCs also contributes to the durability of products incorporating Pevalen™. This overall combination means that less plasticizer does a better job for longer.

For processors, Pevalen™ is easy to use. Its low viscosity makes handling trouble-free, even at low temperatures (see Fig 2). Plastisols incorporating Pevalen™ also exhibit low viscosity and high stability. Pevalen's good compatibility with suspension PVC (sPVC) further assists in faster blending, than is possible with most other plasticizers. All these properties add up to provide increased productivity and reducing manufacturing costs.

Perstorp will be head line sponsor of PVC Formulation in Cologne, Germany March 16-18. Welcome to meet us there to get the latest news and discuss how we can make a difference to your business. You can pre-book a meeting with Christoffer Paulsson.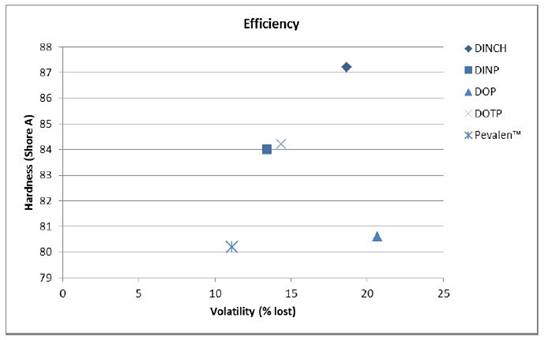 Fig 1. Compared to other general purpose PVC plasticizers, Pevalen™ is both more effective at creating softness and it also is less volatile.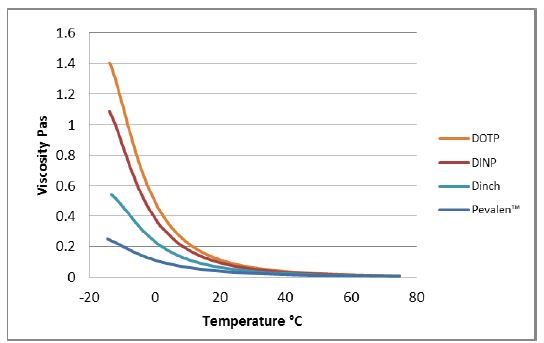 Fig 2. Pevalen's low viscosity is much less dependent on temperature than other general purpose plasticizers.



Håkan Björnberg
VP Innovation Exploration
Christoffer Paulsson
Market Development Manager