We hope to see you at VIV Asia 2019! This edition promises to be a highlight for the APAC animal production industry for the year. You can find us at stand 2310 in hall 102.
VIV Asia 2019 will take place on March 13-15 in the BITEC building in Bangkok, Thailand. With more than 1,250 international exhibitors, VIV Asia offers a unique selection, including global market leaders and regional as well as national Asian players of growing importance.
At VIV Asia we will focus on a trifecta of solutions that can facilitate the move to safe food through antibiotic free production:
Gut health improvements: happy and well performing animals have healthy guts. Read more about ProPhorce™ SR our solution to improve gut health >>
Hygienic and nutritious feed: keep pathogenic and mycotoxin pressure low and nutritional value of feed high with ProPhorce™ Feed Hygiene solutions and ProSid™ mold inhibitors >>

Clean drinking water: pathogens don't just spread through feed. Drinking water is an equally important hindrance of performance if not monitored correctly. ProPhorce™ drinking water solutions can help to keep drinking water safe and free from pathogens.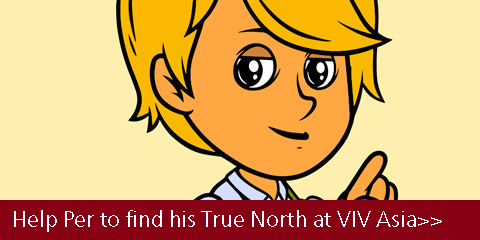 Antibiotic resistance is a true global concern that we all need to address, and Perstorp Animal Nutrition would like to play it part in the journey to a world where antibiotics are used responsibly and as such continue to work when we really need them. Drop by our booth for a chat about and let's find our True North together!
Looking for free and easy access to the event? Register here as a guest of Perstorp and get your entrance tickets now >>
Jim Ren
VP Sales Animal Nutrition APAC
Tony Toebak
Marketing Communications Manager Animal Nutrition