Interview with Marie Grönborg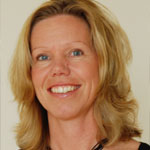 Could you please introduce yourself?
My name is Marie Grönborg and I am General Manager of Perstorp's Business Unit Performance Additives. I was born in Varberg, Sweden in 1970 and I currently live in Ängelholm, Sweden with my husband Magnus and children Louse (14) and Oscar (11). I received my MSc in Chemical Engineering from Chalmers Technical University, Gothenburg and Imperial College, London.
I like to travel both for work and holiday. We travel a lot as a family; in the last 12 months we have been to Beijing (visiting among others the Summer Palace, the Chinese Wall, the Opera, the Forbidden City), Oslo (celebrating their national day and visiting the ski stadium Holmenkollen) and Idre (Northern part of Sweden where we went mountain biking, white water rafting and hiking). I also enjoy spending time outdoors: jogging, hiking, working in the garden, going fishing or horseback riding. Furthermore, I spend time with the children on their activities: soccer, floor ball and swimming and last but not least I enjoy food - both cooking and eating and at weekends I like to spend time with friends over dinner and a bottle of good wine.
Where did you work before your current position?
I have been working within Perstorp for 18 years and the last couple of years I have been the General Manager for the Formox business in the Perstorp Group. Formox is the world leader in formaldehyde technology providing complete solutions by offering technology, plants, catalyst and technical support to customers worldwide.
What do you like about your job?
I enjoy working with people and opportunities and to do so on a global basis. Moreover, I find the opportunity to work with this business very rewarding, in that I am working with products that have the potential to improve some of the most important things in life: availability, safety and quality of food.
What kind of goals do you want to achieve with Perstorp?
I think Perstorp has a very good platform in the feed additive, silage and crimping segments. We provide high quality solutions for preservation, feed safety and animal performance. Our strengths are our technical competence, our product portfolio as well as our production assets. We are also well recognized in several markets. We are a global player, but with a high degree of local presence.
My ambition is that we shall continue to develop all of this: our product portfolio, our production assets and our presence in the global market and that in a few years we should be recognized as one of the world leaders within our segment of products for feed additives, silage and crimping.
By being a reliable partner with a global base and local presence, by having a complete product portfolio and by providing best-in-class technical support we should be the preferred supplier for customers who need natural and safe solutions which help to improve the economy of our customers by enhancing animal performance and health and by reducing losses in feed raw material.
Could you tell us something about the industry you're in and how you see its future?
I think this is an industry with a lot of opportunities. The world has to feed more and more people utilizing the same resources and this means there is a lot of focus on producing food in a professional, economical but also a natural and safe way.
There are of course a lot of challenges as well; the markets are quite local with strong traditions. That is why there is a big need not only to have good products, but also to be present and to understand the local needs and to be able to support and inform how our products should be best used to e.g. improve feed conversion rate and reduce losses in nutritional value and preventing pathogens and mycotoxins.
Which has been the evolution of your market for the last 5 years and what changes do you expect in the near-future?
The market has been growing for the last 5 years, and I am confident we will continue to see a strong growth going forward. Especially markets outside Europe such as Latin America, South East Asia, Russia and China will probably show a strong growth in the next 5 years.
Do you have a question for the next person we will interview for this newsletter?
What are the major trends in the feed, preservative, silage and crimping markets in your home country? And what do you consider to be the most important factor in our relation for you to be successful?
Is there anything else you would like to mention in this interview?
For next year I look forward to meet with as many of our customers as possible to listen to their needs and their view on the market and market trends going forward. Until then I would like to wish everyone a Merry Christmas and a Happy New Year!