Satyajit Jagtap joins Perstorp for Indian subcontinent
Global feed additive company Perstorp has appointed Dr. Satyajit Jagtap to lead the sales activities for the Animal Nutrition business in the Indian subcontinent. Dr. Jagtap joined Perstorp on January 18th and reports directly to Perstorp Animal Nutrition Vice President for APAC Dr. Jim Ren.
Perstorp's Animal Nutrition Business has an ambitious growth strategy in Asia Pacific. Its portfolio is based on organic acids and esters of organic acids such as butyric and propionic acid. These solutions have exhibited highly effective properties in improving animal growth performance, gut heath and preservation, making them ideal candidates to support the transition to Antibiotic Growth Promoter (AGP) free production.
Dr. Jagtap will be responsible for continuing Perstorp's growth in the Animal Nutrition Business in India, Bangladesh, Sri Lanka and Nepal, and will continue to build on market presence and sales availability. His strategic focus will be on feed additives that support gut health, feed hygiene and water hygiene.
Jagtap has more than 17 years of experience in the animal nutrition industry, working at both multinational feed additive companies and local feed mills. He holds a Master's degree in Animal Nutrition and a Bachelor's degree in Veterinary Science.
"With his strong technical background and commercial experience, I am sure Satyajit will strengthen our team and grow our business further in APAC" says VP APAC for Perstorp Animal Nutrition, Jim Ren. "Satyajit will enable Perstorp Animal Nutrition's unique products and solutions to reach more customers and create more added value to the livestock and feed industry in the Indian subcontinent."
"I am thrilled and excited to join Perstorp's Animal Nutrition team and look forward to work with my colleagues to bring very innovative and differentiated solutions to our customers in the Indian subcontinent. I am sure Perstorp's future ready product portfolio will help to meet our customers' current needs and address future market and regulatory challenges in the areas of gut health, mold inhibition and feed and water hygiene" states Satyajit.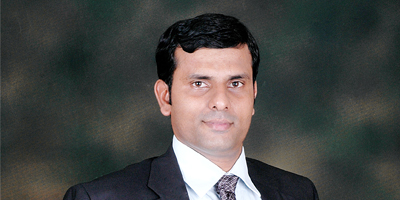 Perstorp appointed Dr. Satyajit Jagtap to lead Animal Nutrition Sales for the Indian subcontinent.