Perstorp enables customers to commercialize innovative polyurethane solutions faster
Investing in an application lab for increased focus on customization and product development
Recruitment of expert resources to further expand customer collaboration
Signed partnership with Nexeo Solutions for increased speed to market

Perstorp is the market leader in caprolactone products, bringing over 40 years of experience to the market. Its unique production process developed over many years provides caprolactones with improved properties and exceptional consistency that enable durable and long-lasting polyurethane products. Increased demand for high performance polyurethanes has led Perstorp to embark on numerous initiatives in preparation for future customer needs. These initiatives include an investment in a fully equipped application lab; recruitment of expert resources to further support customer development and collaboration; and signing of a distribution partnership with Nexeo Solutions to increase speed of Perstorp products to the market.
"The new laboratory equipment and expert resources will enable our customers to work more closely with us as well as for us to better understand and support their future needs. Along with our recent investments in a pilot plant facility, this is an exciting way for us to develop solutions for the future together with our customers where they can shorten time to market with innovative products", says Stephen Lewis, Vice President, Business Unit Capa™, Perstorp.

The new laboratory will further enhance our formulation capabilities for two-component polyurethane systems as well as pre-polymers for hot-cast elastomers. As a response to specific customer requests as well as general market trends for longer life and more durable polyurethanes, Perstorp is in the forefront of bringing these new innovative polyol technologies forward.

Caprolactone based polyurethanes are known for their exceptional properties in terms of durability and long-lasting performance. Capa™ polyols add value to the end-products by delivering qualities such as endurance and longevity. Capa™ provides cost savings for industrial parts where longer-lasting properties lead to lower maintenance and failure costs. The ability to perform in harsh conditions could also help build greater brand confidence for consumer products.

Perstorp signed a partnership with Nexeo Solutions last September. "This agreement has enabled us to work even closer with customers and help them increase speed to market", says Robert Magro, Sales Director Americas, Perstorp. Nexeo Solutions is responsible for distributing the Capa™ product line in several United States regions.

"Our partnership with Perstorp is highly complementary to our polyurethane portfolio," says Joey Gullion, VP End Market, Chemicals for Nexeo Solutions, "Our customers are appreciative of the quick sample turn-around time and access to product specialists from Perstorp."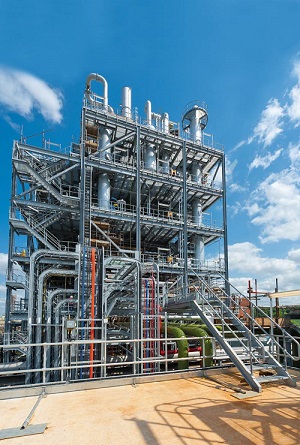 Perstorp's facility in Warrington, United Kingdom


For more information please contact:
Malin Johansson, Marketing Communications Manager, Tel +46 734 27 46 21, send email
Kevin Noels, EMG, Tel +31 164 317 011, send email