New advantages emerging for Perstorp's Pevalen™ plasticizer for close-to-consumer applications
An increasing number of flexible PVC producers and users are taking advantage of the excellent processability and performance characteristics of Pevalen™, the non-phthalate general-purpose plasticizer from Perstorp for close-to-consumer applications. Now, new research indicates that they may have another reason to choose Pevalen™—for its flame retardant properties.
Researchers at Perstorp recently studied various formulations using Pevalen™ and a competitive plasticizer, DINP. When they compared formulations with the same hardness, they found that formulations based on Pevalen™ had superior performance in smoke release.

They also found that the limiting oxygen index (LOI) of formulations containing Pevalen™ and different types of flame retardants, most notably antimony oxide, were also better than formulations containing DINP, possibly due to synergies between the plasticizer and the flame retardant. Pevalen™ does not appear to be inherently more flame retardant than DINP, but because formulations do not need as much of the Perstorp product, there is a marked difference in the fire properties of the PVC/plasticizer combination.

Particularly impressive are the gelation characteristics. Because it gels faster at any given temperature compared to other plasticizers, Pevalen™ enables production speeds to be increased and/or energy consumption to be reduced. Processors also benefit from its low viscosity and low volatility. Together, these characteristics provide plastisol producers with increased flexibility in production, better process economics, and improved environmental profiles.

"The results on fire properties are only preliminary, and we need to deepen our investigations before we make any categorical claims," says Dr. David Bray, Product Manager Plasticizers, at Perstorp. "But we are optimistic that further research will confirm what we have already seen. The findings are especially important, given that many of the applications for PVC plastisols using Pevalen™, such as wall coverings, flooring, cables and coated fabrics, require good flame resistance."

Pevalen™ already often provides these products with improved durability. Its UV resistance is excellent and it does not contribute to any yellowing. Its fully non-aromatic structure is already appreciated in numerous close-to-consumer applications.

Anders Magnusson, Technical Market Development Manager with Perstorp, will discuss high performance polyolester plasticizers for plastisol on the 5th of April at 15.30 hrs. CET at the PVC Formulation conference organized by Applied Market Information (AMI) in Cologne on April 5-7.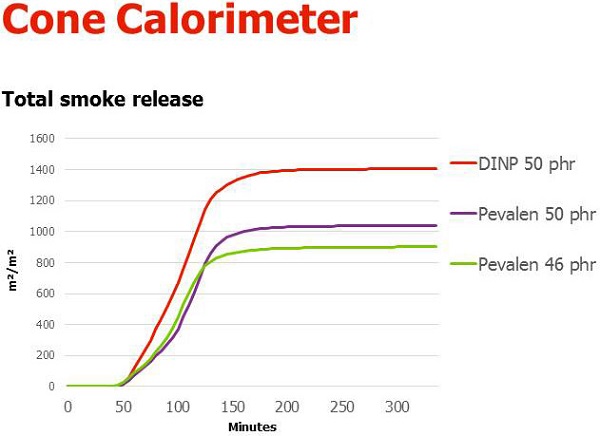 Graph shows the amount of smoke given off from different flexible PVC formulations in the Cone Calorimeter. Formulations containing 50 phr of Pevalen™ give off much less smoke than formulations containing the same amount of a competing plasticizer, DINP. The difference is even more significant when formulations of the same softness are compared (less Pevalen™ is needed than DINP to produce the same softness).

For more information please contact:
Tony Toebak, Marketing Communications Manager, Tel +31 416 317 721, send an email
Kevin Noels, EMG, [email protected], Tel +31 164 317 011, send an email