Perstorp signs Memorandum of Understanding at "Make in India"
Perstorp, a world leader in specialty chemicals has been participating in the event "Make in India". By signing an MoU with MIDC (Maharashtra Industrial Development Corporation), the company initiates the process of evaluating the opportunity to invest in a new world scale production plant for Penta in India. The related market for coatings is growing fast in the country. Building a world scale production plant would be yet another important part of the ambitious plan to strengthen the position in the Asian Market. In July 2015, Perstorp acquired the Penta business from Koei Chemical Company Ltd., a Japanese chemicals producer.
"The Penta business is a corner stone for Perstorp and an integral part of the strategy to drive growth in the Asia Pacific region. It requires presence and determination in order to succeed. An investment in India would further build upon and strengthen our number one position in the global market. Today's signing of an MoU demonstrates our intention to take the desired steps in the region." Perstorp's President and CEO Jan Secher says.

"Perstorp has for a longer period successfully been building its position in Asia. The "Make in India" initiative gives Perstorp an arena to further evaluate opportunities within this exciting region. Ultimately our intention is to develop existing and new customer relationships to further support their success and growth", says Ulrika Andersson, Vice President Business Unit Penta.

Pentaerythritol (Penta) is a white crystalline polyhydric alcohol containing four primary hydroxyl groups. Applications are building blocks in alkyd resins for coatings, radiation curing monomers, polyurethanes, rosin esters, synthetic lubricants and explosives. Perstorp is currently producing Penta in three different production plants in Germany, the US and Sweden.

Make in India
The Make in India initiative was launched by Prime Minister Modi in September 2014 as part of a wider set of nation-building initiatives. The initiatives was set to simplify doing business and invest in India, this in order to turn the country into a manufacturing hub. Since then India has seen an increase in FDI of 48% on an annual rate and India is today enjoying the highest growth in the world closing 2015 at GDP +7.3% with a projection of 7.5% for 2016.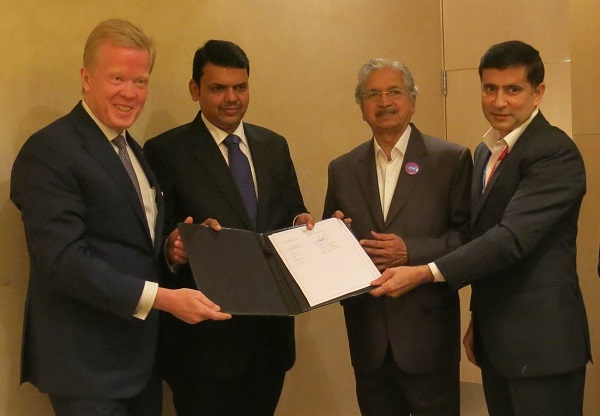 From left to right: President and CEO of Perstorp: Jan Secher – Chief minister of Maharashtra: Devendra Phadnavis - Minister of Industries Maharashtra: Subhash Desai - CEO of MIDC: Bushan Gagrani. (Photo: Perstorp)

For more information please contact:
Ulrika Andersson, Vice President Business Unit Penta, Tel +46 40 635 88 39
Cecilia Svensson, Vice President Communications, Tel +46 40 635 8830
Kevin Noels, EMG, [email protected], Tel +31 164 317 011


This press release and relevant photography can be downloaded from www.PressReleaseFinder.com.
Alternatively for very high resolution pictures please contact Kevin Noels ([email protected], +31 164 317 011).
Ulrika Andersson
EVP Strategic Projects and M&A
Cecilia Svensson
EVP Communications & Sustainable Transformation