Forty years on, Perstorp's Capa™ commitment is stronger than ever
This year is the 40th anniversary of Capa™, the multi-talented range of caprolactone monomer, aliphatic polyester polyols and thermoplastics from Perstorp. The Sweden-based global supplier of specialty chemicals continues to innovate with Capa™, to bring ground-breaking high-end performance to products and processes in adhesives, biopolymers, coatings, elastomers, and resins used in a wide range of applications.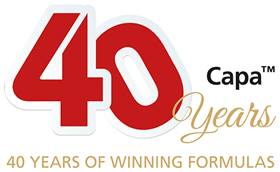 Since the introduction of Capa™ in 1975, Perstorp has built up an unmatched combination of knowledge and expertise, as well as a market-leading production and testing infrastructure. Capa™ helps Perstorp customers create materials with enhanced properties, such as wear resistance, lower VOC, UV resistance, gloss, adhesion and low temperature flexibility. Perstorp is now strengthening its focus on delivering custom solutions that address industry trends, facilitate innovation and differentiation through measurable benefits.

Perstorp is constantly investing in production facilities. Its latest investments include a pilot plant that was brought on-stream in Warrington, UK, last year. This will help it develop new grades more quickly for specific needs.

"With Capa™, we strive to be at the forefront of the development of innovative high performance solutions for formulators across diverse polyurethanes sectors and in plastics," says Stephen Lewis, BU Vice President for Perstorp's Capa™ business. "It boils down to three things: Consistent innovation in our technologies, delivering clear benefits throughout the value chain; Customer focus, with superior service support and providing security of supply; and finally Care, with our focus on quality and sustainability."

Saving solvents and energy in adhesives production and use
Capa™ plays a vital role in improving both the adhesion and bonding process of adhesives. It helps minimize joint failures, whether the substrate is textile, wood, metal or plastic. For adhesive formulators and converters, Capa™ is easy to process and apply, helping to minimize processing costs. The low processing temperatures of thermoplastic adhesives containing higher molecular weight Capa™ grades (Capa™ Thermoplastics), and the low melt viscosity of reactive adhesives containing Capa™ Polyols, ensure speed and efficiency as well as reduced energy costs and lower VOC levels.

Increasing the potential of bioplastics
Perstorp is stepping up its investment into the fast-growing bioplastics market. Capa™ Thermoplastics are already playing a vital role in enhancing biopolymer performance and biodegradability across a range of bioplastic applications. Compounding equipment is currently being installed in a new advanced laboratory. This investment is critical to support Perstorp customers in their development work in this innovative market.

Capa™ Thermoplastics add significant value to the performance of biopolymers such as PLA, PHA and starch, in short-life and long-life applications. Today, Perstorp is focusing on key bioplastic growth areas, in paper coatings, bags & films, and packaging, but with its new investments, the company is ensuring that it has the infrastructure in place to meet the challenges of new emerging applications.

High performance coatings with low carbon footprints
The coatings market is a key focus for innovation at Perstorp, as the company moves forward in developing targeted solutions for selected segments, applying its expertise in a wide range of technologies to decorative and industrial applications. Perstorp is concentrating on providing customers with improved performance while reducing wherever possible the environmental footprint of the supply chain.

Perstorp has a leading position as a supplier of high performance materials for industrial coatings used in applications that range from aerospace exteriors, through wind turbine blades, to soft-touch surfaces for car interiors. Capa™ Polyols are the ideal solution for companies formulating premium polyurethane coatings that require very good low temperature properties, resistance to impacts and abrasion, crack resistance, chemical resistance, and very good aesthetic qualities. Capa™ Polyols are also best in class when it comes to VOCs, since they require the addition of little or no solvent.

Elastomers perform under pressure
When used in polyurethane elastomers, Capa™ Polyols significantly enhance the performance properties that keep them in good shape over long lifetimes. For example, Capa™ improves the properties of thermoplastic (TPU) end products that require outstanding performance under pressure, such as gaskets, O-rings and seals. For castable elastomers, Capa™ increases toughness, durability and flexibility for applications that range from industrial rollers and mining screens to sports shoes and car bumpers.

Premium resins
Capa™-based polyurethane dispersions and UV-curable resins provide sustainability and premium performance properties across wood, metal, plastic, textiles and leather substrates. They provide protection against weathering, cracking, corroding, abrasion and impact. Applications include high-end opto-electrical, automotive, and aerospace coatings as well as paints and printing inks.

New Capa™ innovations add to sustainability
Perstorp is now launching the Capa™ Lactides series of very high performance polyols. Properties of these copolymers of caprolactone and lactides can be tailored for specific applications. Perstorp sees major opportunities for these new grades, which enable a good balance between soft feel and a range of mechanical properties in coatings. These liquid grades eliminate solvent use and add long-lasting properties to adhesives and elastomers too. Lactides are based on lactic acid derived from renewable resources, so the new polyols have beneficial carbon footprints as well.

Learn more!
To learn more about our full Capa™ offer and discover our new Capa™ product selector please click here >>
Jesper Fahlén
Global Business Manager Polyol Specialties. Member of Board of Directors since 2019. Born 1975.
Cecilia Svensson
EVP Communications & Sustainable Transformation